Bumping inquires to raise you score
Click here to
Print
---
#Elle - Says,
i want to learn how to bump some off
---
#carol - Says,
Hi elle,

I am not sure whether this is a valid way or not bot bumping can be done by recurring soft inquiries. Say you make soft online inquiries in your report everyday, gradually after around 50 such inquiries one inquiry at the top bumps off. This is a gradual way to do it. Actually the loop is that for TransUnion and Equifax you can use this tactic but not for Experian.
---
#Laura - Says,
Well Carol,

Is that a legit way to remove inquiries? Do hard inquiries drop off as well?
---
#goodnatured - Says,
I have been reading a lot on tradelines, was all to confusing at one point but then after reading a ton of information, I am getting a better uderstanding on them now,.
---
#Laura - Says,
Hi goodnatured, the forum will be benefitted greatly if you share some information you have received so far.
---
#george - Says,
I too agree with Laura
---
#sdchargers_63 - Says,
GOODNATURED...please feel free to share. 'Inquiry Minds Want TO know."..LOL
---
#fireyone - Says,
Good one Sd
---
#sdchargers_63 - Says,
Thanks FIREYONE!! I would like to know, like LAURA, if 'hard inquiries' come off, as well.
---
#anthony - Says,
Hard inquiries come off only if the inquiries are unauthorized. For this you need to check the credit report where you will find the name of the inquirers. You can ask these inquirers to remove the hard inquiries from the report. If they do not agree, then send them a certified letter to know if they have proper authorization to pull up your credit file. In most cases the inquirer delete the inquiry as a courtesy or because they cannot verify your authorization. But it should be noted that in this way only few hard inquiries can be removed, not all.
---
#goodnatured - Says,
so you have to contact each one of them on your credit record and ask them to remove them individually?

If you have alot is it okay to do a form letter and just put in the company name and address?
---
#anthony - Says,
Hi goodnatured
You should contact only those inquirers whom you think unauthorized and hence giving a negative impact on your credit report, not all. However if they are authorized then you cannot threat them by saying that you can sue them under FCRA. For this you need to first ask them in writing whether they have proper authorization to pull up your file. If they don't have authorization, then only they will remove the inquiry from your credit report.
---
#Guest - Says,
I think that you can get a letter formatted and just change the name and address of the inquirer and send it through certified mail to each of them. This should solve your purpose.
---
#CMBV22 - Says,
here is a thread I found from another forum that explains this process. The thread is from march so some of the info maybe outdated.

.....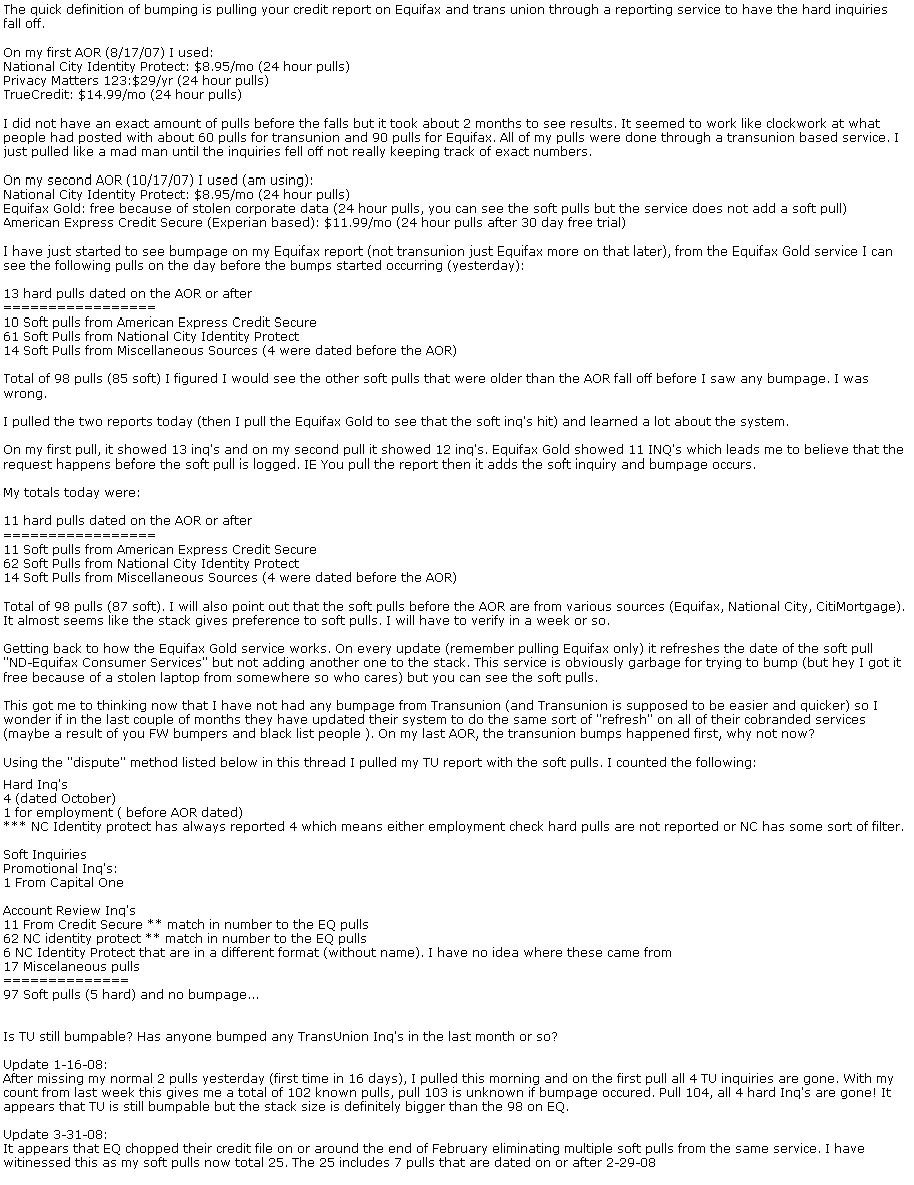 Message edited by: dmlavigne1 on 2008-03-31 10:33:37 CDT[/img]
---
#goodnatured - Says,
sorry guys, Tradelines are the accounts on your report. Sometimes you can be denied because of having too many tradelines, not enough variety of tradelines, or having not tradelines. So they are simply another name for an individual account.
---