Do you have a Will?
Click here to
Print
---
#crackerjack - Says,
I found this really good article that I thought you all would find interesting. Do you have a will?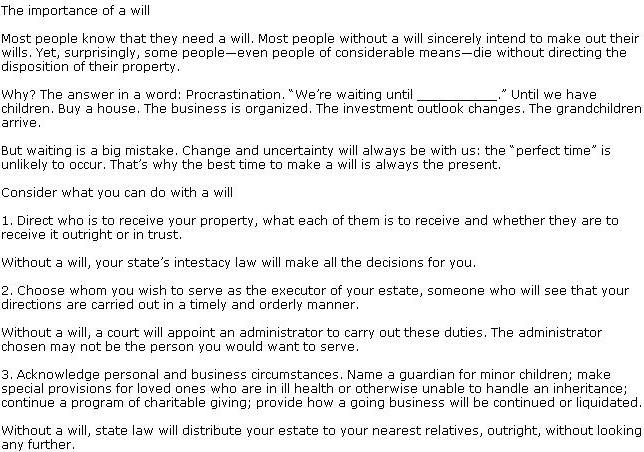 System detected duplicate content. Changed into image.
---
#crackerjack - Says,
Here is a template page that lets you down load various types to get you started if you decide to do a will, make sure that you have the paperwork properly witnessed and notarized as to not to questioned it's legality.



deleted- TOS Violation- Richard
---
#goodnatured - Says,
another great post, very, very useful, they have every document imaginable. thanks
---
#crackerjack - Says,
thanks, I think this is a really good idea, especially if you have family. You want everyone to be treated fairly, all kids have different personality so you don't want the strong one taking over and taking everything, you don't want your kids screwed out of what is rightfully theirs and you want it to be equally distributed the way you intend. If you don't do a will someone else will be making these decisions for you, like your ex-husband, in my case, I am remarried, but I know my ex-husband if he could cause me headaches in the grave he would. So I think having this in place is just a safer way of preserving my wishes and ultimately taking his control away, he would use it through my kids.
---
#goodnatured - Says,
very good way of thinking crackerjack, you have to protect yourself and your assets before hand, you never know how people will act after you are gone, so it is good to put in writing what and where you want dispersed. This is a good thread, one that I probably would not have thought of, thanks for getting into a very good subject area.
---
#Laura - Says,
This is a very new topic.

. Will come up with some information very soon.
---
#carguy - Says,
I have to say that I would really recommend having a lawyer draw up the will. The will needs to be done properly. It is not hard to dispute a will if it is not done correctly. We have a small child and wanted everything to be exact... who would become his guardian, where our assest would go.. ect.
I cost us $750 for us to have it done. It is not cheap, but we believe it is worth every penny
---
#crackerjack - Says,
I don't have that kind of money just laying around, I think one being written up by your own hand, witnessed and notarized is better than not having one at all.
---
#goodnatured - Says,
I think that as long as you have it witnessed and notarized you will be ok crackerjack, you ain't planning on checking out any time soon right? LOL, just kidding, I know this is a serious issue with you. But my thoughts are if you can't afford the attorney, have it witnessed and notarized, should suffice and keep it in a safe spot.
---
#Laura - Says,
I agree Good,

Crackerjack I know its difficult when you dont have the dollars to save your finance. Witnessed and notarized will help for sure.
---
#goodnatured - Says,
I am glad you agree Laura, hope your holiday season is going well.
---
#sdchargers_63 - Says,
I have a Will done by the Military....POA ( Power of Attorney), Life Insurance, etc. It's SOOO important people have one. I need to get a 'civilian' will written up as well.
---
#Laura - Says,
I dont know the difference between a military and a civilian will. Infact I dont know anything about the military will. If you could explain Wendy or anyone who knows about it.
---
#SunDevilsFan - Says,
Man, everytime I see a post like this, it always reminds me what the next thing I need to do... Add something else to the to do list!
---
#Laura - Says,
I have still not received any response on my question as to what a military will is. How is it different from a civilian one.
---