What to do if I am unable to pay CC bills?
Click here to
Print
---
#Iris - Says,
I am a single mom and have been laid off from job recently. I have not paid my credit card bills for the last 3 months. Can the credit card company close my accounts or stop all transaction? It won't be very long before I get another job. Can I ask them to hold payments for a few days? I won't be able to meet the household expenses without a credit card. Can I set up a payment plan even after I get a job? Because I know it will be almost impossible to pay off the full amount at once.
---
#rachael - Says,
Hi Iris,

If the credit card issuer feels that your accounts are a loss for their company, they may close your accounts. You should contact the credit card company as soon as possible, and try to explain your situation to them. If you are able to talk to the manger of the company, you can request him to reduce your minimum payment. You may even follow up in writing, clearly mentioning the exact amount you can afford to pay each month.

If you have been a good customer until you were laid off from job, the company may agree to your terms. You should also mention in your letter, how soon you expect to be employed and how you plan to repay your debts. Some companies would not want to lose loyal customers, so they may allow you to continue using the credit cards.
---
#Moore - Says,
Hi Iris,

I have heard that many credit card companies have "hardship programs". These hardship programs help those who are unable to repay their credit card debts. They generally have reduced interest rates. Sometimes it is also possible to get the late fees and other penalty charges waived off. You can call your credit card issuer, and ask to be placed on their hardship program (if they have any).
---
#internet15 - Says,
If the people unable to pay credit card bills this means that you have nothing to be ashamed of if the bill has come due and you find that you can't afford to pay it. If this is the first time that this has happened, it is understandable that you might feel panicked.
---
#yes we can - Says,
I am unable to pay the credit card bill that has increased it's percentage limit to 29.99%
I cannot pay any more.
---
#yes we can - Says,
I had a the best credit history anyone could have in last 25 years,
have been charging cards and paying in timely manner always, but last September 2009 was laid off from job, since than have no income, was not interested in collecting FREE money from Unemployment, so started some business by charging credit card to buy stuff's and resell it on line, but doing that for almost 10 months figured out that I am in deep SH-T and have balance on credit card for almost $35,000, and have inventory of the items bought to sell by credit card is less than $5000.00 in hand, since credit cards has raised it's interest to 29.99% without any notice to card holders, cant afford to pay monthly payment of $800.00 a month with out a regular income, since I have no Job since September 2008. So I stopped paying the credit card bill to 1 of the creditor, Now other cards are doing the same thing by raising the interest to 29.99%.
Can someone help and tell me whats going on with the banks that they are going nuts with thier customers, who are unable to pay.
Today a creditor called and asked why my payment is past 45 days late, I told them that the reason is that the rate has been increased and I do not have a job, the caller asked me if I can pay $500.00 a month.
I told the caller if she is out of her mind that how someone can pay $500.00 a month when that someone do not have a income/job from last 1 year. The caller hanged up on me.
---
#Ruthie - Says,
Yes, they do and can. How I don't know. But Citicard does it all the time. Then they will sell it to a dozen others. If you have no job, how can you pay a higher amt than what you did when you did have a job. Thats why our country is in trouble. Never talk to a creditor on the phone, do everything in writing. If they call you say you are not the debtor, that they live there and you need to send them a letter. No letter no response. Listen to the people on the forum, they are good honest people. There methods do work but take time. Thats something that most of them credit card companies don't have. One day at a time, one step at a time, and have faith. Your at the right place now. Good Luck Ruthie
---
#debranewell2008 - Says,
Hi yes we can,

First things first unemployment is not free money. You pay into unemployment when you are working. So you have this benefit in case you do lose your job. That's why the amount you get is based on your pay. And in most credit card contracts they have a default interest rate and it is higher. And that is what you have done is default. No you may qualify for a hardship program. But if they find out you could have been getting unemployment so you could have paid your bills and decided not to because you consider that free money. You may not get any help.
---
#FreedomDM - Says,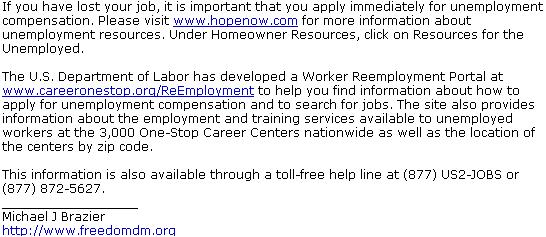 Duplicate content detected
Post converted to image
---
#Ruthie - Says,
Thankyou, I will pass this on to my daughter. I am trying to get her connected to a website in pa. She cannot afford internet service and its very hard for her at this time. Again I thankyou all. Ruthie
---
#Gypsy - Says,
Similarly to others, I have a battle with CitiBank. Last year, I tried one of the debt settlement companies. I had 3 credit cards to pay off. Two of them were negotiated, but the Citibank one, the largest one (about $8000 in debt), turned this over to an attorney collection agency and they will not negotiate something I can commit to doing. They want $500 + a month for the next 6 months or we go to court. I told the debt negotiating company that I would have to go to court as I am not able to commit to their terms and would risk defaulting, which they said would not be good. I would have been agreeable if they had agreed to a 12 month period, but they declined. The Debt Negotiating company told me they were unable to get anywhere with this attorney (who was either hired to collect or perhaps he bought the debt). What is more, the Debt Negotiating company closed my account and returned the money that I had been paying to them so they could use it to negotiate. I am now on my own and don't know what to expect. Before the situation deteriorated to me being back on my own (less the fees I paid the Debt Negotiator), I also wrote a letter to the court explaining my situation, since Citibank or the Attorney had filed suit against me to collect the outstanding debt.
I am told that at some point, I will receive a summons or such to appear in court. Can you tell me if I would be better off letting the judge decide? Or should I call the credit card company and see if they would negotiate? I have figured out it would be probably be a bad idea to contact the Attorney Collection office. I live in Texas. Do you have any suggestions or recommendations? I appreciate your input.
---
#Guest - Says,
I don't think it's worth contacting the credit card co. once the matter is taken up by the CA. Be present at the court if you receive any summon directing you to be there. If you don't appear in the court a judgment might be passed against your interest. I guess you'll have an opportunity to ask them to get things validated.
---
#DebtandTaxes - Says,
Iris,
I own a debt management company which has a link on this site. I can help you with your credit card issues. We offer a debt elimination program that reduces all unsecured debt by 65% and allows you up to 36 months to payoff the remaining 35% interest free. It also removes all derogatory entries for the accounts entered from your credit reports. This is not a debt settlement program.

If you would like more details go to my website at www.debtandtaxreduction.com/debt-elimination.html. My contact info is on there as well. Hope to talk to you soon.

Jeffrey Deam
Debt and Tax Reduction Services
Glendale, AZ | Marion, IL
---
#DebtandTaxes - Says,
Let me rephrase what I said earlier....

Anybody can take anyone to court in this country. When dealing with the debt collections companies, it is very easy, when you know what you are doing, to circumvent actually going to court and even having it dismissed if you actually have to make an appearance. It is even very routine procedure to eliminate the judgement, should a person be unfortunate enough to receive one. Collections agencies, by definition are illegal, just as the I.R.S should not exist. There was a time when collections agencies were just another 'division' of the original creditor. That is no longer the case. they are a 3rd party trying to collect on money that they did not loan you and that the original creditor has already been reimbursed for by the US Treasury. What they do does not stand up in court when you know how to fight them.

Here is an example, albeit a very simplistic one... I could sue you for your dog pissing on my lawn. If you are not in court to defend yourself or do not know how to go about defending yourself, the court will award me damages. The same holds true for these collections agencies and their lawsuits.

FYI.... if a person does not handle their dealings with the collections agencies correctly, such as making a verbal or written commitment to pay them, you will make that non-valid debt collection attempt valid. If you do not respond to a collections agency in any way, no matter what they threaten, you make it that much easier to defeat them. Ignore them completely and hire a legitimate, qualified company, if you do not know how to deal with them yourself.
---
#jane - Says,
i lost my job and impossible for me to pay my credit cards. i need to go back to my home land. Do the bank can still ask for my payment either im in overseas?
---