Financial Saving Tips
Click here to
Print
---
#daliscarlod4 - Says,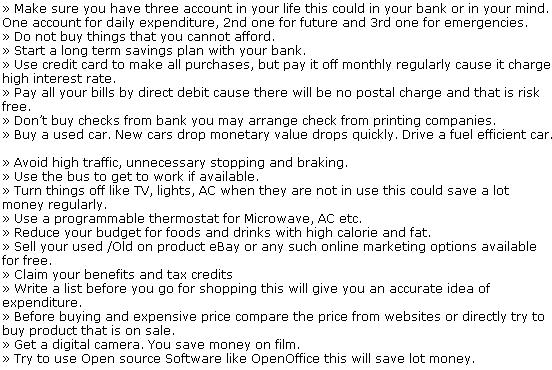 [System detected duplicate content and converted into image.]
---
#fireyone - Says,
Hello daliscarlod4 , First of all welcome to the credit magic forum. I read your post and see a lot of useful information. Thank you for contributing to the site. There are a lot of ways people can save money these days and the steps above our nice begginers. I would not mind seeing others add to this post. The extra money people can save can go to paying off credit card bills or simply putting money back in a future fund.
---
#sdchargers_63 - Says,
I've gone by ALOT of these tips and I'll tell ya...it really helps!! Sometimes, when I put money into a savings account ( just alittle at a time..) it's great. However,...can be a little bit 'depressing' when I have to use it for something (bills, etc). But,..at least, I know it's there. Putting 'spare change' in a container...that can add up, as well!!
---
#grahamketty - Says,
Hi
Nice post......Thanks for nice tips...Can you suggest me which bank is safe for our money ?

cheapest commercial insurance
---
#sdchargers_63 - Says,
Hi, GRAHAMKETTY. Well.....I'm not sure where you reside, but, I would go to your local banks or Credit Unions and see what the best rate is for YOU (on savings acounts, etc.) I'm not sure what KIND of accounts your looking for. I'm sure a financial advisor can help.
---
#fireyone - Says,
If I were to use any bank I would make it a local one that I could drive to. I do not ever advise any bank that is out of your area. Sd is correct about credit unions. They usually do offer the cheapest interest rates. If you let us a little more info on what exactly you are looking for in a bank and the area you are from we could probaly help you out a little more.
---
#sdchargers_63 - Says,
I live in a small town where 'everyone knows everyone' type of thing. I DO know (because I've done this) if you have a Savings account, and keep adding to it, SOME banks will let you get a loan, with the Savings account as collateral. Also.....you'll 'establish' yourself for 'in house credit' kind of thing.
---
#dorothykinder - Says,
@daliscarlod4,

That really sounds interesting and i think if one really applies this daily lifestyle then they will save on more money and will learn the usage of things for their future.
---
#mary26 - Says,
Thanks for the wonderful information.I've looking for this kind of information on particular this issue for a long time..its really very effective in today's expensive era where every one wants to secure their future in monetary term..
===================
Compare Credit Cards
---
#FreedomDM - Says,
some good tips, TY.

Id agree with the above on Credit Unions. They seem to have that inner circle special for their account holders after an extended time of positive banking history and are more likely to provide a line of credit or loan at a reasonable rate of interest.

Bundle your cable, phone, and internet is another way to better budget your monthly bills - AT&T even offers mobile bundles for those who arent interested in establishing a land line.

You can also bundle insurance policies between your home and auto to receive a better rate and the convenience of 1 monthly payment to them.

Create a savings account that does not have a debit card attached to it for purchases and cash advances. Most companies can split direct deposits too. Take $25 a pay period and have it deposited into this account. Youll never miss the $25 once u get used to it. Not having immediate access to the funds will better enable the savings process to take its toll and build a nice rainy day for ya.

Micha3l
---
#SamGurl - Says,
I was recently out of work for 5 weeks and ended up having to roll the change in my "change jar". Never thought I'd ever actually need to do that. But I ended up with over $65! So I can attest that that's a great tip for emergencies!

---
#sdchargers_63 - Says,
Yep!!..........I've done that, as well. You'll be surprised how change adds up!! For a rainy day, or..if you wanna splurge on yourself!!
---
#SamGurl - Says,
I know, now that I'm working again finally I'm super excited about really paying attention to throwing my spare change in it. I'm going to save it up and take my baby boy to Disney in a few months.

---
#sdchargers_63 - Says,
AWW!!! That sounds like fun!! yep..every little penny DOES add up...that's for sure!!
---
#Alastair - Says,
Before opening a savings account, find out whether the account is insured by the federal government (FDIC for banks or NCUA for credit unions). Financial institutions offer a number of products, such as mutual funds and annuities, which are not insured.
---